Home

Puppies

Reserving A Puppy

Guarantees

Paying

FAQ's

Contact Cheryl
Paying For Your Puppy

If you are buying a puppy, please start with the Reserving A Puppy page, which describes the typical steps we go through to make sure a puppy is right for you, and to get information communicated between us.

Scroll down for payment options to reserve or finish paying for your puppy.

Payment Methods:
Personal checks and money orders (requiring 2 weeks to clear for final payment). If you mail a check/money order, let me know when you place it in the mail. I will reserve your puppy during the mail transit time.

Cash

MoneyGram from Wal-Mart: http://www.walmart.com/cp/Money-Transfer/632044 to the Wal-Mart store in Maryville, Missouri

Credit card payments via PayPal (see the PayPal buttons at the bottom of this page). You do not have to have a PayPal account to use your credit card via PayPal. However, keep in mind that if you use the e-check option in PayPal, the payment takes 4 to 7 days to process. Please don't use PayPal "at the last minute" unless your have a normal credit or debit card, because it will not be processed for several days. We can't let a puppy leave us until confirmed funds are here.
Depositing to Reserve Your Puppy:
A $100 nonrefundable deposit is required to hold a puppy until it is old enough to go to your home, though some people pay fully at the time of deposit. If more than $100 is paid initially, $100 of that payment will be considered the deposit. This deposit is applied toward the puppy's cost. Only place a deposit on your puppy if you are sure you are ready for a puppy.
The first $100 you pay toward your puppy is considered a non-refundable deposit that applies toward your puppy's total price. "But," we do try to refund deposits in cases where the puppy is reserved by another family for the same price.
The Final Payment:
Most people pay the rest of the cost in cash at the time of pickup, but if you wish to pay via check or money order, that is fine as long as it is at least 2 weeks prior to picking up your puppy, to allow the check to clear. If you need to finish paying for your puppy in person on the day of pick up, please bring cash (not a check).
PayPal and Wal-Mart MoneyGram Transfers are easy alternatives, too. A Wal-Mart is located about 30 minutes from here (specify the Maryville, Missouri store), so I can drive there to receive the money.
When is Full/Final Payment Due?
Full payment is due before the puppy leaves us, or within a week after the puppy's availability date if you are picking the puppy up rather than flying the puppy via commercial airlines. Payment must be confirmable by that time, so if a check or money order is to be used, it should be sent 2 weeks earlier.
If I hold a puppy past the 8 week age for you at your request (such as for Christmas, a birthday, to follow a vacation, etc.), full payment is required at 8 weeks.

PayPal Buttons For Credit/Debit Card Payments
PayPal Account Not Required
Thankfully, it is not necessary to have a PayPal account to pay via the buttons on this page. PayPal is a credit-card processing company that is very secure.
See the red arrow on the white image below if you are having trouble finding how to pay without a PayPal account.

Multiple payments can be made that add up to the total cost using the buttons below.

If you need to make a payment for an amount different than the buttons offered below, let me know and I can send you an e-mail through PayPal with a link you can click to make a payment for a specific amount.

Only make a deposit on a puppy if you are sure you want him or her.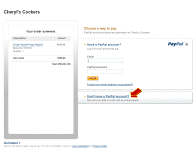 Yes! You can pay even if you don't have a PayPal account. :-)
Click the image above to see where you can click to pay via debit/credit card
if you don't want to use a PayPal account.

$100
Regular Payment
After placing a deposit, you may use this button to make additional payments of $100 each.

$50
Regular Payment

$200
Regular Payment

$300
Regular Payment

$400
Regular Payment

$500
Regular Payment

$600
Regular Payment

$700
Regular Payment

$800
Regular Payment

If you need to make a payment for an amount different than the buttons offered above, let me know and I can send you an e-mail through PayPal with a link you can click to make a payment for a specific amount.

Home

Puppies

Reserving A Puppy

Guarantees

Paying

FAQ's

Contact Cheryl
Cheryl Walston
Bedford, IA 50833
712-621-4464
E-mail Cheryl
Please include your phone # in e-mails.
Web site modified and hosted by CR Equine Sites